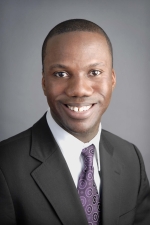 University of Pennsylvania Graduate School of Education Assistant Professor Shaun Harper, author of Student Engagement in Higher Education: Theoretical Perspectives and Practical Approaches for Diverse Populations, will give a talk in connection with the recently released 2009 Campus Climate Assessment.
The Campus Climate Assessment was conducted to provide a snapshot of how we all—students, staff, and faculty—experience this campus around key dimensions of social identity and how these dimensions affect our lived experience at Bryn Mawr College.
Harper's talk will take place at 7:30 p.m. on Wednesday, March 17, in the Ely Room of the Wyndham Alumnae House and will be followed by a panel discussion.
The talk is sponsored by the College's Diversity Leadership Group (DLG), which also conducted the Campus Climate Assessment.
On Thursday, March 25, at 4 p.m. in the Hepburn Teaching Theater of Goodhart Hall, the DLG will present the play Restless, a student-written and -produced piece that brings to life issues at the heart of the Campus Climate Assessment. The performance will be followed by a facilitated discussion that will be the foundation for subsequent community-wide dialogue.
The play is free and open to all members of the Bi-Co community.
Restless was written and directed by Nithya Vasudevan and Lily Mengesha and features Ibrahim Abdul-Rahim, Ahmed Ali Akbar, Nat Armentrout, Pia Crawford-Silva, Frankie Dillard, Auguste Dutcher, Chessa Fernandez, Abigail Higgins, Maggie Larson, Samantha Lopez, Tsega Meshesha, Stephanie Nunez, Addie Rutkowski-Ansell, Samee Sulaiman, Elena Swartz, Kendra Sykes, Andrea Tang, Annafi Wahed, and Jessica Wong.