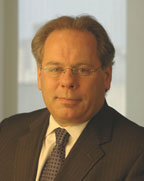 Steve Cohen, executive director of the Earth Institute at Columbia University, will give the Janee Armstrong Friedmann Lecture in International Relations on Thursday, March 18, at 7:30 p.m. in Dalton 300.
Entitled "Understanding Environmental Policy, "Cohen's lecture is sponsored by the Center for International Studies.
As the executive director of the Earth Institute and the director of the Master of Public Administration Program in Environmental Science and Policy at Columbia University's School of International and Public Affairs, Cohen has been instrumental in the education and training of current and future leaders in environmental policy, public service, and sustainable development. After spending several years with the Environmental Protection Agency in the late 1970s and early 1980s, Cohen joined the Columbia University faculty and has played a crucial role in building programs at the School of International and Public Affairs and at The Earth Institute.
He is the author of numerous books including The Effective Public Manager, Strategic Planning in Environmental Regulation and Understanding Environmental Policy.
The Center for International Studies brings together scholars from various fields to define global issues and confront them in their appropriate social, scientific, cultural, and linguistic contexts.
The center supports collaborative, cross-disciplinary research by faculty and students and prepares students for life and work in the highly interdependent world and global economy of the 21st century.
Janee Armstrong Friedmann '59  established the Janee Armstrong Fund in 2007 to fund an annual lecture in International Relations. Armstrong earned an A.B. in history from Bryn Mawr and a master's degree in international relations from the University of  Pennsylvania.