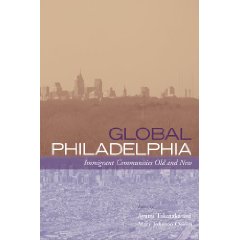 This Friday, March 26, Bryn Mawr sociologists Mary Osirim and Ayumi Takenaka will celebrate the publication of their new edited volume, Global Philadelphia: Immigrant Communities, Old and New, with a presentation featuring several scholars who contributed essays to the book. Among the presenters are a Bryn Mawr professor emeritus of economics, a Bryn Mawr anthropology professor, and a recent Haverford graduate, along with Osirim and Takenaki.
The discussion, which will be accompanied by a book-signing, will take place in Dalton 300 from 3 to 5 p.m. It is sponsored by the department of sociology and the Center for Social Sciences.
Global Philadelphia examines the social and economic dynamics of various ethnic populations and makes comparisons with and connections between traditional immigrant groups—Germans, Italians, the Irish, Jews, Puerto Ricans and Chinese —and newer arrivals such as Cambodians, Haitians, Indians, Mexicans and African immigrants of various nationalities.
On the schedule:
Ayumi Takenaka – Introduction to the Project: Philadelphia's Immigrant Communities in Historical Perspective
Noel J.J. Farley and Philip Kilbride – "Changes in the Behavior of Immigrants: The Irish in Philadelphia"
Lena Sze – "Opportunity, Conflict and Communities in Transition: Historical and Contemporary Chinese Immigration in Philadelphia"
Jennifer Atlas – "Healthcare Access for Mexican Immigrants in South Philadelphia"
Garvey Lundy – "Philadelphia's Haitian Community: Transnationalism and Unity in the Formation of Identity"
Mary Osirim – "The New African Diaspora: Transnationalism and Transformation in Philadelphia"