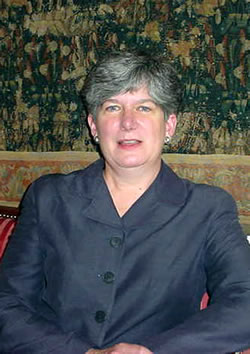 President Jane McAuliffe has invited the campus community to a reception to celebrate Karen Tidmarsh for her 20 years of service as Dean of the Undergraduate College next Tuesday, April 27, from 3:30 to 5 p.m. in the Campus Center Main Lounge.
After a sabbatical next fall, Tidmarsh will return to Bryn Mawr in a new role as Coordinator of Academic Advancement programs and resume part-time teaching. She will be succeeded as dean by Michelle Rasmussen effective July 1.
Tidmarsh began her career at Bryn Mawr as a student; she graduated magna cum laude in English in 1971. After teaching high-school English for a few years, she earned a Ph.D. at the University of Virginia. She returned to Bryn Mawr as an assistant dean and a member of the English faculty in 1979. She has remained at the College since, serving as an admissions officer for several years in the early 1980s before returning to the dean's office. In 1990, she was appointed Dean of the Undergraduate College.
As dean, Tidmarsh oversaw countless efforts to improve and enhance the student experience both in and out of the classroom, maintaining a close connection with the undergraduate student body by serving as a primary academic adviser to all students whose surnames began with "S." Beloved by generations of Bryn Mawr students for her empathetic approach and her sly wit, she has been a consistent advocate of a healthy balance between academic, extracurricular, and social life. Her contributions to curricular improvements and academic support have been matched by her commitment to creating a welcoming and diverse campus community that is strongly connected to the world beyond its borders.  In 2006, she received the Helen Taft Manning Award, given by the College and the Alumnae Association in recognition of extraordinary service to the College.