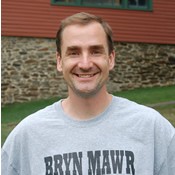 The Athletics and Physical Education Department invites the Bryn Mawr community to a reception honoring Head Cross Country and Track and Field Coach Dan Talbot for his 15 years of service to the College on Thursday, May 6, in the Ely Room of the Wyndham Alumnae House from 4:30-6:30 pm.
Talbot came to Bryn Mawr in the fall of 1994 as a volunteer assistant cross country coach in the fall under then head coach Ray Tharan. That winter and the following spring, Talbot started the indoor and outdoor track and field club.
In the fall of 1995, Talbot was elevated from a volunteer assistant to assistant coach. From 1996 to 1999 he served as sports information director and was charged with the day-to-day marketing and promotion of Bryn Mawr's athletics.
In 1997 Talbot took over head coaching duties for cross country, and in 1999 track and field was elevated to varsity status and Talbot was hired full time to coach both sports. Indoor Track was added as a varsity sport in 2001.
Under Talbot's guidance, Bryn Mawr's teams and individuals have improved steadily each year. In 2004 the Indoor team notched its highest Centennial Conference finish ever, and Bryn Mawr had two national qualifiers including the school's first track and field All-American, Joanna Simonis '05. At the national championships, Simonis set a Centennial Conference record in the 800 meters and finished third to earn All-American status.
Talbot is leaving Bryn Mawr to pursue other professional and educational opportunities closer to his family home in Vermont.