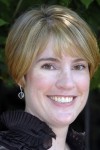 Emily C. Espenshade, who launched the Slade Society for leadership giving while working in the Resources Office at Bryn Mawr 10 years ago, will be returning to the College as President Jane McAuliffe's chief of staff on Monday, July 26.
Espenshade has a master's degree from Harvard University's Graduate School of Education in education administration, planning, and social policy with a concentration on higher education .
"It's wonderful to be returning to Bryn Mawr," says Espenshade. "From the recent curriculum changes to the renovation of Bern Schwartz gymnasium and the 125th anniversary celebration, it's apparent that these are exciting times on campus."
As chief of staff, Espenshade will manage the operations of the president's office and serve as the president's representative to the on-campus community of students, faculty, and staff.
"Emily brings both a breadth of professional experience and an intimate knowledge of Bryn Mawr to this position," says President Jane McAuliffe. "And while that combination will serve her well, it was Emily's abilities to communicate thoughtfully and engage with others that set her apart."
Espenshade currently serves as the director of major gifts at St. Albans School in Washington, D.C. Prior to her work at St. Albans, she held development positions at the National Trust for Historic Preservation, including director of the National Trust Council for three years. In the years between graduating magna cum laude from Wellesley College and coming to work at Bryn Mawr for the first time, Espenshade worked as an assistant manager and buyer for a New York retailer and as a paralegal in Washington, D.C.
Espenshade came to Bryn Mawr for the first time in 1997 and stayed at the college until 2001. In addition to being the director of the Slade Society, she served as both assistant and associate director of annual giving.