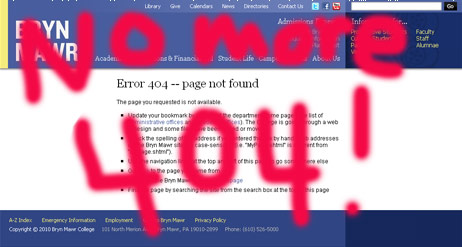 We've all seen it: that irritating Error 404 page, telling us that the link we just clicked is broken.
Need help finding and fixing broken links on a brynmawr.edu site that you maintain? Send an e-mail to help@brynmawr.edu with your site's address or call Juliana Perry at x.7554
The College's Web Services staff wants visitors to the Bryn Mawr website to see less of this frustrating page. With that goal in mind, the team recently set out to find and repair broken links on the College's site, with the help of the "Web stewards" who maintain sites for departments, offices and programs on the Bryn Mawr server.
According to Web Services Manager Vince Patone, the participation of Web stewards is critical to the project, which is spearheaded by Web Applications and Systems Administrator Andrew Lacey and Web Services Project Manager Juliana Perry.
Lacey wrote a script, adapted from the World Wide Web Consortium's Link checker,  that crawls the College's site. This tool follows every link on the home page to its destination; then it follows each link on the destination pages, repeating the process until it has exhausted every possible path from the home page.
The script produces reports showing the broken and problem links on the pages in each subsite that branches directly from the www.brynmawr.edu address (e.g., www.brynmawr.edu/department). The reports have been posted as plain-text files in a special location on the Web server.
Perry then notified the Web steward for each directory found to have broken links—a total of nearly 150 e-mails. Her e-mails to stewards included a link to a page illustrating how to interpret the error reports, hints about how to repair broken links, and an invitation to contact Web Services for help.
"We did a little bit of cleanup first," Perry said, explaining that Web Services had removed some behind-the-scenes links that aren't visible in a browser—calls to outdated scripts and stylesheets, for example—and are thus difficult to repair in Adobe Contribute, the tool most campus Web stewards use to edit pages.
A number of stewards have contacted her for help in repairing broken links, Perry says, and she welcomes calls from those who have not yet responded.
Perry is also recommending a plugin to the Firefox browser that checks pages for problem links, and a planned training session for staff members will focus on "avoiding common errors and practices that cause broken links in the first place," says Perry.