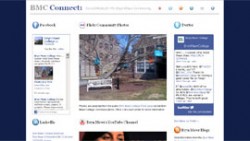 Wondering how to find Bryn Mawr and your fellow Bryn Mawr devotees in the world of online networking? A new page on the College's website can help. BMC Connect, the College's gateway page for social media, offers links to online communities connected to the College through
Facebook
Twitter
Linkedin
Athena's Web, the secure network sponsored by the College's Aumnae Association

The page also features photos selected from the public Bryn Mawr College Flickr Group (please feel free to join and share your Bryn Mawr-themed photos!), videos posted to Bryn Mawr's YouTube Channel, and entries from selected blogs on the Bryn Mawr College blog server.

Links to the new page can be found in the left-hand navigation of the "About" section of the College's website and under "About Bryn Mawr" on the College's News portal.