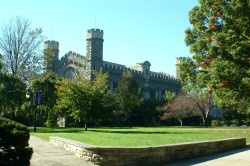 Thomas Hall will undergo major exterior renovations beginning next week, resulting in the closure of the Cloisters and large sections of the iconic building being enveloped in scaffolding.
The project—which is mostly masonry, roof and structural repair—begins during Spring Break and is expected to last until at least December of 2011.
The Cloisters will be closed for the duration of the project, with the structural work focused on the canopy over the walkway.
During the renovations the parking spaces between Thomas and Canaday Library will be eliminated and there will be no vehicular access between Canaday and Thomas. All handicap spaces from that area will be relocated to the driveway between Merion Green and Taylor Hall. There will also be no parking in front of Canaday during the renovations.
A new handicap accessible entrance to Thomas Hall will be constructed next week and should be functional by March 11. It will be on the south (Pembroke West) side of the building and will be clearly marked. The present accessible entrance across from Canaday will remain in use until the new entrance is ready for use.
"This is a project that shouldn't have too much of an effect on students. However, seniors may want to keep the fact that the Cloisters is closed in mind as Commencement approaches and they think about photos. Thankfully the campus has many beautiful backdrops," says Facilities Director Glenn Smith.