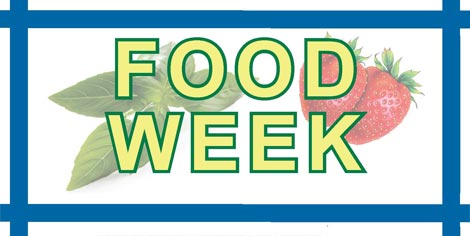 At Bryn Mawr and Haverford, the week of March 21-25 will offer a series of events focused on issues of local food, food sustainability, food justice and access, vegetarianism and veganism, farming, and culinary careers. Lectures, panel discussions, and a film screening are all on offer.  The schedule:
Monday, March 21,  8 p.m., in Haverford's Multicultural Center:
Michael Paone, Community Organizer, New York City Coalition Against Hunger
Community Organizing Around Issues of Hunger
Tuesday, March 22, 7 p.m.  in the Campus Center at Bryn Mawr:
Philadelphia Farming and Food Justice Panel, featuring representatives of Mill Creek Farm, Philadelphia; Greensgrow, Philadelphia; Weaver's Way, Philadelphia; Greater Philadelphia Coalition Against Hunger; and Philadelphia Community Gardens
Wednesday, March 23, 4:30 p.m. in Thomas 224 at Bryn Mawr:
Aliza Green, Chef and Cookbook Author
Talk on Culinary Careers, Sustainability, and Food Writing
Followed by "Meet the Author, Eat the Recipes" in Haffner Dining Hall, until 8 p.m.
Thursday, March 24, 5 p.m. in the Dining Center at Haverford and Erdman Dining Hall at Bryn Mawr:
Local Meat-Out Dinner
Thursday, March 24, 8:30 p.m in Chase Auditorium at Haverford:
Screening of Fresh the Movie
Begins with a round-table discussion on Bi-Co students' experiences with farming, food justice, and education
Friday, March 25, 6:30p.m. on Haverford College Apartments Green
Bi-Co Community Potluck and Fiesta
Local bands will be performing. Rain location: Ehaus (Apt. 15)
Food Week sponsors at Bryn Mawr include the Civic Engagement Office, the English Department, Environmental Studies, Dining Services, and the BMC Greens. Sponsors at Haverford include the Center for Peace and Global Citizenship, the Committee for Environmental Responsibility, 8th Dimension, EarthQuakers, Ehaus, Culinary House, Quaker House, Seasonal Supper, and Dining Services.