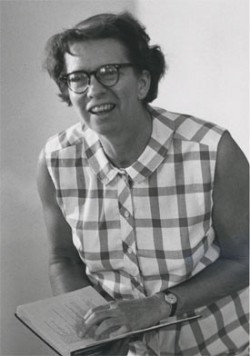 A memorial service for Mabel Lang, Katharine E. McBride Professor Emeritus and Paul Shorey Professor Emeritus of Greek, will be held on Sunday, April 3, 2011 at 3 p.m. in Thomas Great Hall. A reception will follow.
Lang, who passed away last July at the age of 92, left a lasting legacy with her contributions to Bryn Mawr College. She made a vivid impression on generations of students and colleagues, as evidenced by the scores of comments posted on a Mabel Lang Memorial Blog hosted by the Department of Greek, Latin, and Classical Studies.
She received her A.B. from Cornell University in 1939 and her M.A. (1940) and Ph.D. (1943) from Bryn Mawr College. She began teaching at Bryn Mawr in 1943 and served on the faculty of the Greek Department for 45 years, where she also held the position as Chair of the Department, without sabbatical, for 27 years until her retirement in 1988. Lang also served as Acting Dean of the College, Dean of the Sophomore Class, and Secretary of the Faculty. She was also known for being stage manager of several Bryn Mawr College Faculty shows in the 1940s and 1950s.
Lang was also a Fellow of the American School of Classical Studies in Athens, Greece. Her excavations at the Acropolis and the Agora led to the publication of the first guide book to the Agora, four Agora picture books, and three scholarly volumes in the esteemed Agora series.
Among her other academic accomplishments, Lang was awarded the Blegen Research lectureship at Vassar College (1976) and was chosen to deliver the Martin Classical Lectures at Oberlin College (1982). Honors included a Guggenheim Fellowship, a Fulbright Fellowship to Greece, three honorary degrees, and membership in the American Philosophical Society, the American Academy of Arts and Sciences, the German Archeological Institute, Phi Beta Kappa, and Phi Kappa Phi.