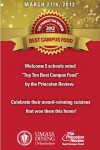 Bryn Mawr's Dining Services was one of several top-ranked college food-service departments invited to a "Best Campus Food Showcase" at the University of Massachusetts-Amherst this week.
Haffner Lead Cook Bryan Jackson and Production Manager Maly Nhel did the cooking and food preparation for Bryn Mawr at the event. Dining Services Director Bernie Chung-Templeton and Associate Director David Chase were also on hand to represent the College. Other teams of food service directors and chefs came from Wheaton College in Illinois, Virginia Tech, Cornell University, and host Umass Amherst.
Sample Dishes From the Showcase
Food service directors from each school gave a brief talk on their dining program and the recipes they selected to represent their school at the event.
For pictures from the event, go the Dining Services Facebook page.
Bryn Mawr was ranked fourth in the "Best Campus Food" category in the latest Princeton Review college rankings. Other lists Bryn Mawr scored highly on include "Dorms Like Palaces," "LGBT-Friendly," and "Students Study the Most."