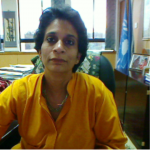 U.N. Resident Coordinator of Zambia Kanni Wignaraja '88 was recently highlighted on the Women in Public Service Project website.
Wignaraja is a member of the WPSP Summer Institute Planning Committee.
The first summer institute takes place at Wellesley College this summer. Bryn Mawr will host the institute in the summer of 2013.
Students, faculty, staff, and alumnae traveled to Washington D.C. in December to take part in a colloquium marking the official launch of the WPSP.
The Women in Public Service Project is a joint initiative founded by the State Department and the Sister Schools (Bryn Mawr, Barnard, Mount Holyoke, Smith, and Wellesley).