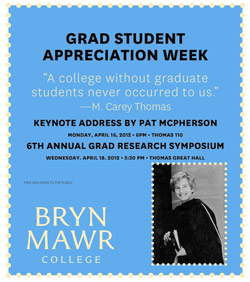 A keynote address by President Emeritus Mary Patterson McPherson, Ph.D. '69, will open a week of events celebrating graduate education at Bryn Mawr from Monday, April 16, through Friday, April 20. Graduate Student Appreciation Week at Bryn Mawr includes two public lectures and a research symposium at which students will present their work to the community, as well as an awards ceremony and several social events for students, faculty, and alumnae/i of Bryn Mawr's graduate schools.
"Graduate students are invaluable members of Bryn Mawr's campus community," says Provost Kimberly Cassidy, who will offer closing remarks after McPherson's speech on Monday. "They add depth and vigor to the ongoing intellectual exchange on campus and serve as models and mentors to undergraduates who are interested in pursuing graduate study. They're also critical to our relationships with the local community and with other educational institutions. I'm delighted to celebrate graduate students and their work, and I hope other members of the campus community will take this opportunity to learn a little more about graduate education at Bryn Mawr."
Public Events Celebrating Graduate Student Appreciation Week
Keynote Address by President Emeritus Mary Patterson McPherson, Ph.D. '69
Monday, April 16, at 6 p.m.
Thomas 110
McPherson, now the executive officer of the American Philosophical Society, will discuss graduate education at Bryn Mawr—the history of graduate education at the College as well as personal anecdotes of her time as a student, dean, and president of Bryn Mawr. Deans Mary Osirim and Darlyne Bailey will provide opening remarks, and Provost Kimberly Cassidy will close. Light refreshments will be served in Thomas Great Hall at 7:30.
5:30 p.m. Poster Session. Graduate students in GSAS and GSSWSR will share their research with poster displays. Guests can browse the displays and chat with students about their work.
6 p.m. Lecture by former GSAS Dean Jim Wright, Ph.D. '78. Professor and William R. Kenan Jr. Chair in the Department of Classical and Near Eastern Archaeology James Wright, who was recently appointed to a five-year term as

the

 

the director of the 

American School of Classical Studies at Athens

, will offer brief remarks on graduate education at Bryn Mawr.

7:30 p.m. Awards Ceremony.

Recipients of the GSAS and GSSWSR Faculty Mentorship Awards will be announced, recognizing faculty members who have displayed an outstanding commitment to graduate education and excelled as mentors to one or more graduate students. Light refreshments will be served.
Graduate Student Association Co-Chairs Lindsey Dever, a Ph.D. candidate in the clinical and developmental psychology, and Stella Diakou, a Ph.D. candidate in classical and Near Eastern archaeology, organized the week of events, which are sposored by Bryn Mawr's Graduate School of Arts and Sciences, Graduate School of Social Work and Social Research, Graduate Group in Archaeology, Classics, and History of Art; Departments of  Classical and Near Eastern Archaeology, History of Art, Physics, and Chemistry; the Bryn Mawr-Haverford Career Development Office; and the Graduate Student Association. Additional support came from the Alumnae Association and the Department of Geology.