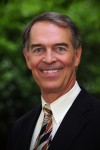 Bryn Mawr College Director of Facilities Glenn Smith was named president-elect of APPA, the national association of higher education facilities officers, at the organization's annual meeting in July.
Smith will serve one year as president-elect and become president for a year beginning next summer.
APPA originally was the Association of Physical Plant Administrators but now simply goes by APPA—Leadership in Educational Facilities. It is an international association with members in Canada and affiliations with similar organizations around the globe.  In addition to colleges and universities, its membership includes community colleges, prep schools, K-12 schools, and museums.
Smith came to Bryn Mawr as the director of facilities in 1997 following a 24-year career as a Navy Civil Engineer Corps officer.
His involvement with APPA started at the local Delaware Valley Chapter, where he served as president for three years. He also served for five years as a dean at APPA's Leadership Academy and was one of the first recipients of APPA's Research Award.
Bryn Mawr College received APPA's Effective and Innovative Practices Award in 2006, for its creative approach to storm water management through the creation of the pond between Rhoads and Pen y Groes.