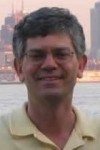 Math Professor Victor Donnay was quoted in a Sept. 19 post on the blog "The Notebook."
Donnay was attending a conference of the National Action Civics Collaborative (NACC), an organization that works with schools to move civics beyond classrooms and textbooks into real-world projects and activities, especially in schools that serve less affluent, marginalized students.
In addition to quoting Donnay, the article mentioned his work with Philadelphia-area secondary-school teachers.