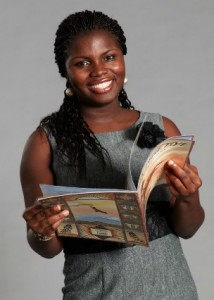 Deborah Ahenkorah '10 will be speaking to Bryn Mawr and Haverford students next week on the subjects of social entrepreneurship and opportunities for international exchange for Bi-Co students. Ahenkorah founded the Golden Baobab Prize as an undergraduate in 2008, and was named a 2011 Echoing Green Fellow for her work with African children's literature.
The following events are open to the entire Bryn Mawr community.
Monday, Oct. 22, 4-5:30 p.m., Gateway Conference Room
Social Entrepreneurship Conversation—co-sponsored by CDO, LEAP, PREP
Registration required
Tuesday, Oct. 23, 4-5:30 p.m., Pensby Center
Pensby Center Drop-In
Thursday, Oct. 25
Opening of Illustrations Display, 6-7 p.m., The Multicultural Center, Haverford
Evening Lecture: Inspiring Children's Literature: Deborah Ahenkorah '01, 7-8 p.m., Humanities Center, Haverford
Ahenkorah's visit is sponsored by Bryn Mawr's Pensby Center and Haverford's Center for Peace and Global Citizenship.