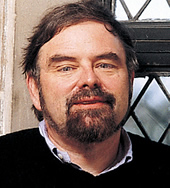 This November, while on leave from teaching, Growth and Structure of Cities Professor Gary McDonogh gave the inaugural lecture at a University of Barcelona conference titled Global Chinatowns: Social Movements, Urban Conflict and the Renegotiation of Space.  In addition to participating in the conference, McDonogh chaired a dissertation tribunal at the university.
McDonogh's activities in Spain in the first semester have also included presentations on Chinatowns at the Universitat Rovira Virgili in Tarragona and the Universitat Autonoma de Barcelona, where he also presented a paper in the workshop "Ethnic Entrepreneurship in a Time of Crisis" titled "Generaciones, conflictos y cambios: perspectivas desde las historias de empresarios étnicos en las Américas."
In December, McDonogh participated in graduate seminars in Tarragona and was the closing speaker at the Jornadas de Antropologia y Arquitectura in December at the University of Barcelona.
Barcelona has been the cornerstone of McDonogh's work since the mid-'70s, in works as diverse as the monograph Good Families of Barcelona (Princeton, 1986), the edited volume Conflict in Catalonia: Images of an Urban Society (Florida, 1986), and Twelve Walks Through The History Of Barcelona (Ajuntament de Barcelona, 1993), as well as numerous other articles in Spanish, French, Catalan, and English. McDonogh's foci in Barcelona include the nature of class conflict and divisions within the city, from 19th-century capitalist expansion to the issues of contemporary third-world migration or questions of nature, sustainability, and spatial justice.  He is currently working on a study of Global Chinatowns that will incorporate field materials from Barcelona and other European sites.
McDonogh returns to the classroom in the fall of 2013.