An article in the latest issue of Worldview, the quarterly magazine published by the Peace Corps, highlights Corps volunteers who, influenced by their Peace Corps experience, have gone on to pursue careers in medicine and public health.
Among those profiled is Lauren Arnold, who attended Bryn Mawr's Postbaccalaureate Premedical  Program after her time in the Peace Corps.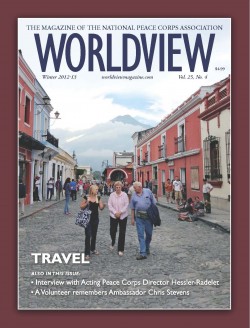 Click on the cover image of the winter edition to the right to read the article.
From the article:
Lauren Arnold applied to Bryn-Mawr College's post-baccalaureate program to prepare herself for medical school using her cell phone as a modem from her Cambodian village and interviewed on Skype. Although Arnold worked as a teacher in Cambodia, some of the most significant lessons she taught were health-related. "I realized just how much I was affecting my community as a role model and trainer for youths and women. I knew my efforts to teach public speaking, proposal-writing, and health promotion would live on; my students' new self-confidence would enable them to make their village a better place. With community members, I taught, I laughed, and I affected change. I taught them about equality and health; they taught me that anything was possible. In a community in which the disenfranchised felt powerless, I showed them that they, too, had the power to make change," says Arnold, who will attend Columbia Medical School.
The article also quotes Associate Dean and Director of Health Professions Advising and the Postbaccalaureate Premedical Program Jodi Domsky.
From the article:
"We have had postbaccalaureate students who have returned from their service and started our program immediately, others have come to our program after doing something else for several years. There is no rush, and people who are the most successful are the ones who have thoroughly examined their interests in medicine and cannot imagine themselves doing anything else."
When asked why she thinks that former Peace Corps Volunteers, make successful candidates for medical doctorate degrees, Domsky replied, "Anyone who has completed the Peace Corps has demonstrated a deep commitment to service in the developing world. Returned Peace Corps Volunteers have also shown that they can live in challenging circumstances, learn a new language and culture, and embrace those who are different than they are. These are all valuable skills to have in medicine."
Established in 1972, the Bryn Mawr Postbaccalaureate Premedical Program is one of the oldest, most respected, and most successful in the nation. Over a 12-month period of intensive, full-time study in the classroom, students are thoroughly prepared for the challenges of medical school. After completing the program, virtually all students who apply—over 98 percent—are accepted to medical school.