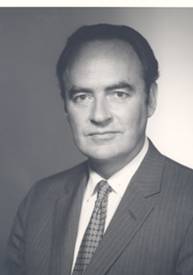 On February 15, 2013, President Obama will welcome to the White House the recipients of the 2012 Presidential Citizens Medal, the nation's second-highest civilian honor. Among those being honored is Bryn Mawr's fifth president, Harris Wofford.
"It is my distinguished honor to award these individuals the 2012 Citizens Medal for their commitment to public service," said President Obama in a White House press release. "Their selflessness and courage inspire us all to look for opportunities to better serve our communities and our country."
In addition to serving as Bryn Mawr's president from 1970 to 1978, Wofford served as a U.S. senator from Pennsylvania from 1991 to 1995, and from then to 2001 was the chief executive officer of the Corporation for National and Community Service. He is a noted advocate of national service and volunteering. He began his public service career as counsel to the Rev.Theodore Hesburgh on the U.S. Commission on Civil Rights and was an early supporter of the Civil Rights movement in the South in the late 1950s. He became a volunteer advisor and friend of Martin Luther King, Jr. In 1961, Kennedy appointed him as special assistant to the President for civil rights. He was instrumental in the formation of the Peace Corps and served as the Peace Corps' special representative to Africa and director of operations in Ethiopia. On his return to Washington in 1964, he was appointed associate director of the Peace Corps. In 1966 he became the founding president of the State University of New York's College at Old Westbury.
The Citizens Medal was established in 1969 to recognize American citizens who have performed exemplary deeds of service for their country or their fellow citizens. President Obama is recognizing Americans whose work has had a significant impact on their communities but may not have garnered national attention. The President called on members of the public to nominate people in their lives who have performed exemplary deeds of service outside of their regular jobs, including individuals: