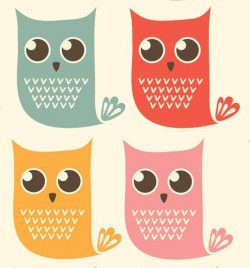 On February 20, more than 250 brightly-colored signs will appear along Bryn Mawr's pathways, pop up on dining hall tables, and decorate doorways. It's all part of "Give a Hoot" at Bryn Mawr, celebrating its fifth anniversary this year.
Give a Hoot seeks to educate community members about the crucial role philanthropy plays in sustaining College operations—only 53 percent of the College's budget is met by net tuition dollars; the remainder is covered by philanthropic support.
Special programming for this year's anniversary event includes a talk by Bryn Mawr Chief Financial Officer John Griffith, a BMC Quizzo tournament, and the first annual "I Hoot for BMC" Day on Friday, Feb. 22, when students, faculty, staff, and alumnae/i are encouraged to wear Bryn Mawr or Owl gear and share their pictures on Give a Hoot's Facebook page.
Wednesday 2/20:
"What Makes a College Run" with John Griffith, Bryn Mawr's CFO
7 p.m., Thomas 110
Dessert and door prizes provided!
Thursday 2/21:
Quizzo! Think you know BMC? Come prove it!
7 p.m., Campus Center Main Lounge
Pizza and prizes for the winning team
Friday 2/22
"I Hoot for BMC" Day!
Alumnae/i and students, show your Bryn Mawr Pride! Wear your Bryn Mawr gear and your Owls all day, then share your pictures with us on Facebook or email them to cwagner@brynmawr.edu (extra points for class colors too!).
Even with all these new opportunities to celebrate, Give a Hoot is still all about showing appreciation for the thousands of generous donors—alumna/i, parents, faculty, staff, and friends—who make a Bryn Mawr education possible.  Students are encouraged to visit the Campus Center from 10 a.m. to 4 p.m. Wednesday through Friday to sign thank you cards and, from 11 a.m. to 1 p.m. on Friday, to participate in a thank you video. Students can also sign thank you cards in Erdman during lunch hours, 11 a.m. to 1:30 p.m.
What would this festive time be without refreshments and prizes? Students who take part in Give a Hoot activities will enjoy free cookies and hot chocolate. Each participant will also be entered into a raffle for a prize from one of our many generous sponsors, such as The Bryn Mawr Film Institute, The Philadelphia Phillies, and Sabrina's Café.
Bryn Mawr donors choose to give because they believe in the deeply meaningful and life-changing qualities of a Bryn Mawr education. They want the Bryn Mawr education they know and love to endure. Simply, Bryn Mawr donors "give a hoot!" "Hoot" for Bryn Mawr by sharing your Owl pride (and gear) on our Facebook page on Friday, February 22.
For more information or to make a gift, visit www.brynmawr.edu/giving or call 610-526-7553.