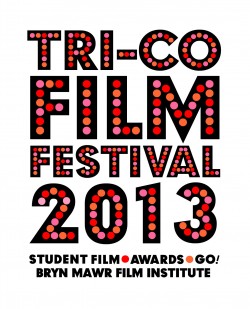 The second annual Tri-Co Film Festival will be held Wednesday, May 1 and feature the best work by filmmakers from Haverford, Bryn Mawr, and Swarthmore Colleges. All Tri-Co students are eligible to submit their short films, and selected finalists will be invited to screen their work at the Bryn Mawr Film Institute along with featured graduating senior thesis productions.
The screened films will be judged by Shari Frilot, senior film and new media curator, Sundance Film Festival and a 2013 Tri-Co Mellon Artist in Residence.
Those interested in submitting a short film, video, or animation must submit by midnight on Monday, February 25. For more information about eligibility and guidelines, see the Tri-Co Film Festival website or contact Assistant Professor in History of Art and Film Studies Erica Cho at echo@brynmawr.edu.