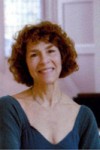 Director of Dance Linda Caruso-Haviland has written the content for a Pew Center for Arts & Heritage funded web-based project focused on the work of choreographer, dancer, and scholar Susan Leigh Foster.
As part of the project, Caruso-Haviland introduced three of Foster's "danced lectures" to audiences. In addition, she wrote a series overview, commentary on each event, and a conclusion for the website.
Caruso-Haviland is an associate professor at Bryn Mawr College, the founder and director of Bryn Mawr's Dance Program, and the current Alice Carter Dickerman Chair for the Director of the Arts. Prior to her current roles at Bryn Mawr, she founded the dance program at SUNY/Westchester CC and taught in several colleges and universities. She also teaches in and directed Bryn Mawr College's critical thinking and writing program for first year students and has received the College's Rosalyn R. Schwartz teaching award.