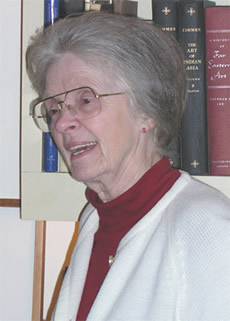 Growth and Structures of Cities Professor Emeritus Barbara Miller Lane was named a fellow of the Society of Architectural Historians (SAH). This fellowship is given to individuals who have distinguished themselves by a lifetime of significant contributions to the field.
From the SAH website:
"Almost 58 years ago to the day, Walter Gropius dictated a letter to an undergraduate named Barbara Miller.  In it he described the persecution that drove him from Nazi Germany. In 1968, his inquisitive correspondent published Architecture and Politics in Germany, 1918-1945, one of the most influential works of architectural history of the last half-century.  Honored with the SAH's Alice Davis Hitchcock award, still in print and still widely assigned, this study decisively demonstrated that Nazi architecture was not limited to monumental neoclassicism and that the relationship between architecture and politics was far more than a question of style. Nor did Lane rest on her laurels. She is the author of a magisterial study of National Romanticism and is currently completing a book on American tract houses.
"Of equal importance, however, is Lane's teaching. Generations of Bryn Mawr and Haverford students, as well as occasional interlopers from Swarthmore and the University of Pennsylvania, have learned about the importance of cities and their buildings from one of the most formidable and original teachers in our field. The path-breaking program she helped establish and long directed in the growth and structures of cities trained generations of historians, architects, and planners. Legions of others joined us in never forgetting the rigor with which she demanded that they be able to answer a question, craft a sentence, and look at the world around them."