In the hopes of establishing a new on-campus tradition, the recently formed student photography club, BMC Focus Photography, is offering graduating seniors the opportunity for informal portraits in the weeks leading up to Commencement.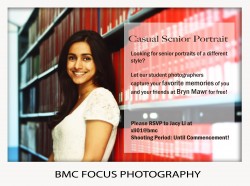 There is no charge for the service, which allows seniors to be photographed by underclass students in locations on campus that have special meaning to them such as the library, the greens, and among the cherry trees. Seniors are provided with digital copies of the photos and, in turn, provide the student photographers with experience and portfolio samples.
Seniors interested in scheduling a photo session may contact Jacy Li '14 at xli01@brynmawr.edu.