At the meeting of the general faculty last week, a memorial minute for Nancy Dersofi, retired professor of Italian, was read by History of Art Professor David Cast and recorded in the faculty minutes. Ten faculty members (current and retired) wrote the memorial minute together with a former student.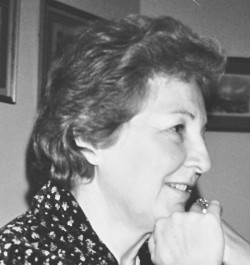 Our beloved friend and colleague Nancy Dersofi died on October 27, 2012, after a three-year battle with pancreatic cancer. Over her more than thirty years as a member of the Italian department, Nancy worked with Nicholas Patruno to build up the significance of Italian language and comparative literature within the language and literature fields at Bryn Mawr College. Her work also helped the study of Italian to resume its central role in Renaissance studies at Bryn Mawr, continuing the great humanistic tradition established by Felix Gilbert and Charles Mitchell.
As a gifted teacher of Italian language and literature at Bryn Mawr and, over several summers, as Director of the Bryn Mawr/University of Pennsylvania summer program in Florence, Nancy insisted that her students develop an understanding of history and culture and the principal works of Renaissance literature. A former student writes, "I was uniquely privileged in the access I had to this superlative Italian professor. Nancy Dersofi was not only available to me whenever I needed her, she always made me feel welcome. In her gentle manner, she taught precision and attention to detail, and shared her love of the Italian language and literature. The compliments I get on my pronunciation reflect on her careful teaching, and my continuing appreciation of Dante, Boccaccio and Petrarca stems from her high regard for their gifts to the world." (Judith Lavori Keiser, '82)
Nancy's own scholarship focused on the early sixteenth century plays of Angelo Beolco, called Ruzante, "the rustic". Ruzante, whose role was always performed by Beolco himself, was the central character in all his comedies. Ruzante was a quasi-farcical figure, a peasant of the Pavano district around Padua, bawdy, often obscene, who spoke in the local dialect; he has been described as a proto-Falstaff. The plays are in dialect – in many dialects, in fact — and draw upon earlier Italian comic traditions while also incorporating some themes and practices from the ancient Roman comedies of Plautus and Terence. Beolco drew subtle portraits of class, status and politics in the voices and language of his characters. Subsidized by a fellowship at Harvard's Center for Renaissance Studies at Villa I Tatti in Florence, and by further grants to study in Padua, Nancy studied Ruzante's songs and their relation to the musical genres of the period and then investigated the buildings erected for his theatrical performances by Alvise Cornaro, Ruzante's patron. Her translation of L'Anconitana: The Woman from Ancona became the authoritative version of one of the more controversial of his plays. L'Anconitana in an early version of her translation was performed at Bryn Mawr College in the spring of 1982 (under the direction of Andrew Lichtenberg); her final translation was performed at Yale University.
Her insights into the interpenetration of language, music, and scenography informed her many publications and papers on Beolco, and made her a leading international authority on Ruzante. Her point of view and research contributed to new emphases in the interpretation of Renaissance literature. Many American scholars have now shifted their attention away from the literature and culture of Rome and Florence and away from Latin revivals and the literary Tuscan dialect, toward new centers of literary activity in Padua, Ferrara and Venice, the dialects of these areas, and the importance of theater and music in the Italian Renaissance. Nancy's work was in the vanguard of this shift.
Nancy came from a family of musicians: she herself was an accomplished violinist. Her lifelong love of music inspired her scholarship, her teaching and her interest in opera. She created courses on the history of opera and on women in opera, courses that entranced her students. Through wonderful visits to the Metropolitan Opera she also enlightened her friends about this art form that connects voice, music, and the spatial constructs of stagecraft. Her interpretations of Ruzante were deeply connected to her passion for the theater, music, and opera.
In her writing, teaching, and College service, Nancy always pushed against the limits of disciplines and of established scholarly definitions. She received her doctorate in Comparative Literature at Harvard, where she was inspired by the exceptionally broad scholarship of her mentors Cedric Whitman, Harry Levin, and Dante Della Terza. At Bryn Mawr and Haverford Colleges she collaborated with colleagues in establishing a major in Comparative Literature (which she chaired for three years), and she encouraged the creation and production of the Bryn Mawr Review of Comparative Literature. She also introduced courses with colleagues in Spanish and French ("Ariosto, Cervantes, and Rabelais" with Willard King and Gerard Defaux; "Lyric Poetry of Renaissance Italy and Spain" with Maria Cristina Quintero). Other courses and publications traced the history of theater and the history of women across many nations and time periods.
She loved language: she mastered Latin, ancient and modern Greek, French, and German, in addition to Italian and its many, many dialects. In her later years on the faculty, and in retirement, she devoted herself to learning the Spanish language and its literature. She continued her work on Italian feminism, and on the history of opera. Her last scholarly papers, on Verdi's "Simon Boccanegra", were given at the Los Angeles Opera Company not long before she died.
Nancy was a woman of warmth and kindness, grace, serenity and fortitude. She was always eager to talk, to listen, to educate and to learn. One colleague describes her as "a person of "grande generosità d'animo e profonda umanità" ("magnificent generosity of spirit and profound humanity" [Roberta Ricci]). We will miss the delights of her table, her conversation, her knowledge and her example. She was a great humanist; she was our multi-faceted "Renaissance woman".
Barbara Miller Lane, with Nicholas Patruno, Catherine Lafarge, Roberta Ricci, Maria Cristina Quintero, Linda Gerstein, Carol Bernstein, David Cast, Julia Gaisser, Caroline Kemmerer, and Judith Lavori Keiser BMC '82.