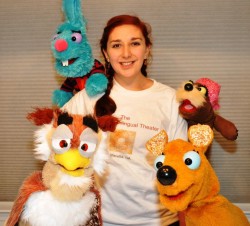 The Children's Bilingual Theater, founded by Jordan Schwartz '15, was selected by the Cobb County Commission and the Cobb Community Relations Council for a Creating Community Award.
The purpose of these awards is to recognize an individual, team or organization that has done something unique in making a positive contribution to the inclusion of any of the diverse communities in Cobb County. An independent committee chose one recipient from each commission district, recognizing the Children's Bilingual Theater on their 10th anniversary.
The Children's Bilingual Theater was founded by Jordan Schwartz when she was 10 years old. Schwartz was recognized for work as the founder and leader of the nonprofit, which has staged six shows and 15 storytelling/literacy events, performed by a student cast in a mix of Spanish and English. She began the project as a fifth-grader in 2003, and the company premiered its first show in 2004. After raising $3,000 in donations and soliciting schools to host the shows, Schwartz led 17 children who staged a bilingual play at four schools.
Schwartz now occupies multiple roles in the organization: she produces shows, raises funds, recruits volunteers, coordinates shows, and leads literacy outreach events to bring students together with community volunteers. With the help of The Children's Bilingual Theater as supporting sponsor, Schwartz has gone on to co-found "The Harlequin @ Bryn Mawr."
The theater is currently using a 2013 Atlanta Braves Foundation grant to help support Mr. Ooba's TEAM, an original children's short play written by Schwartz. Along with receiving an Atlanta Braves Foundation grant, Schwartz recently spoke at a TEDx Conference, and was honored at the 28th annual National Philanthropy Day in Atlanta.