BRYN MAWR COLLEGE GSSWSR – BLACK ALUMNI GROUP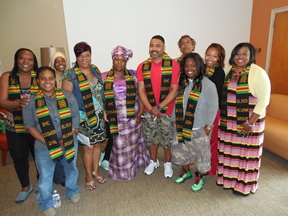 As you know, we gathered on Saturday, May 3, 2014 to celebrate the graduates of African descent for 2014. Alumni Judith Spann, Julius Hayes and Rick Collins joined me as we planned the event. Judith coordinated the menu and provided most of the food. Julius and Rick set up and donated food and beverages.
We received the graduates, alumni and their guests in the Dean's Reception area, a very pleasant venue. There were 13 of the 17 graduates present. In addition, Dean Darlynne Bailey and several continuing students attended, including newly installed officers of the NABSW chapter. Also in attendance was Lois Hayman-El, president of the Alliance of Black Social Workers, Inc., keynote speaker for the installation ceremony.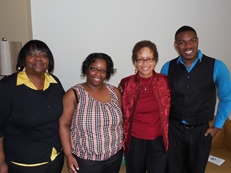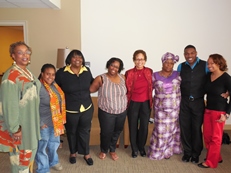 We managed to feed everyone with veggie burgers, fruit, tuna and pasta salad, coleslaw and potato salad for the first round. Then when the meat arrived, we all ate again. We must commend Judith for making mounds of potato salad, coleslaw and tuna/pasta salad. What a labor of love!
The graduates were presented with kente stoles that were made in Ghana and purchased through House of Stoles. The company is the brainchild of Isaac Opoku and his family. Ghanaian weavers from the village of Temar make the stoles to the purchaser's specifications and send them to Isaac a 2014 graduate of Swarthmore College. One of the recipients, Aba Daniel, is originally from Ghana and was extremely pleased to receive the product of craftsmen from her country.
Alumni "enstoled" (my word) the graduates one by one. Then, the alumni gave words of reflection and encouragement. There were tears of appreciation from the graduates. Alumni represented years starting with 1971 and ending with 2013. They included Yvette Bradford, Antoinette Sharp, Macqueline Sparkman, Sheri McDonald and Sheena High. Other alumni expressed regret but lent their financial support.
We also invited the graduates into the status of alumni and their automatic membership in the Black Alumni Group affinity group. They were informed that we operate without officers and dues. However, we can count on alumni and others to answer the call when we engage in a project.
We were truly blessed in the African tradition of reciprocity when the NABSW chapter presented us with a certificate of appreciation and a check in the amount of $50.00. What an unexpected surprise!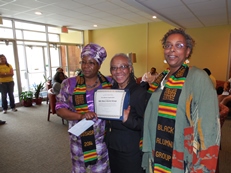 We are grateful to all that contributed to the purchase of stoles. They are Raymond Albert, Sharon Baldwin, Yvette Bradford, Layna Glover, Julius Hayes, Paula Howard, Nancy Kirby, Carleton Lee, Charles Martin, Joanie McCollum, Sheri McDonald, Curtis Murray, Yvonne Rawlins, Yuvonne Samuels, Macqueline Sparkman and Patricia Stewart.
Submitted by Tawana Ford Sabbath, Coordinator