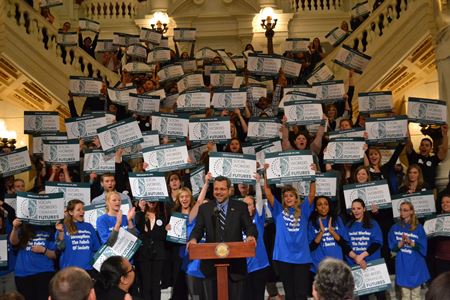 NASW-PA HOLDS ANNUAL LEGISLATIVE ADVOCACY DAY – Over 700 Social Workers Rally for Change
April 8, 2014, Harrisburg, Pa. —The National Association of Social Workers, Pennsylvania Chapter (NASW-PA) held its annual Legislative Advocacy Day in Harrisburg yesterday. More than 700 social work students and professionals visited nearly 200 members of the General Assembly to discuss legislation impacting the social work profession and social service delivery. Legislative visits were followed by a rally on the steps of the capitol rotunda.
In Pennsylvania, a doctor is required to obtain a professional license to provide medical services, just as a nail technician must be licensed to paint nails at the mall. However, mental health providers, such as social workers, are allowed to practice in Pennsylvania without a license. Social work students and professionals met with their legislators yesterday to advocate for House Bill 1640, creating limited practice protection for social work professionals across the commonwealth; and Senate Bill 807, establishing licensure for bachelor-level social workers.
State Senator John Blake (D-Lackawanna), Rep. Dan Frankel (D-Allegheny), Rep. Mike Sturla and former Rep. Tim Seip attended the rally in the rotunda. They each highlighted the critical role social workers play in our communities and how House Bill 1640 and Senate Bill 807 would enhance the profession and protect the public.
"Today, social workers from across the commonwealth have come to the capital to advocate for our proud profession" Ron Simon, NASW-PA executive director stated. "Change is needed to further protect the public and assist social workers as they help others in their moments of need. The legislation that we are advocating for today would create such a change."
For more information on NASW-PA's Legislative Advocacy Day, please contact Tara Breitsprecher at 717-232-4125 or by e-mail at tara@nasw-pa.org.