Washington, DC 2014 Policy Trip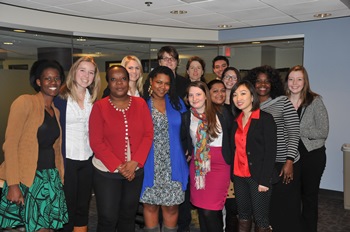 On March 27th and 28th, fifteen students of the   Graduate School of Social Work and Social Research, from the Clinical, Community Practice and MLSP programs visit with a range of agencies in Washington, D.C. to discuss how they might use their social work skills to influence policy decisions that affect vulnerable populations.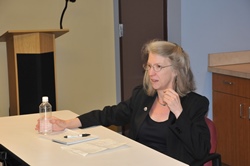 Anna Forbes, an activist, consultant, one of the founders of Action AIDS and BMC-GSSWSR alum, encourages students to pursue work they love and to consider "direct action" as a tool to affect change.
The group concluded their trip with a visit to Bryn Mawr College – GSSWSR's alumna, Congresswoman Allyson Schwartz' office, where they learned of her commitment to address health related concerns.  Throughout the trip presenters expressed, that regardless of one's social work track that each can and should be affecting policy in their agencies, local communities and/or more broadly on behalf of vulnerable populations.  Other BMC-GSSWSR alumni visited included Kisha Bird, Center for Law and Social Policy (CLASP) and Dina Kastner, National Association of Social Work (NASW).
STUDENT REFLECTIONS:
Joann Francis
"At this point in my academic career, I am exposing myself to many different experiences as to narrow my professional interests. This trip helped me realize that I want to continue working with immigrants and refugees. Meeting with various speakers helped me realize that there are so many different career paths I can take with my social work degree. It also helped me become more comfortable with the idea that I don't have to know right now exactly what my career trajectory will look like. This experience inspires me to work harder academically and professionally. Witnessing the speakers' ambitions and the work that they are a part of allows me to set my bar higher. Knowing that some of our speakers are alumna from our program makes me proud to be a part of the Bryn Mawr College community."
Kathleen McGrath
"This trip helped me understand how broad the field of social work can be. Whether providing direct-care services, working in policy and government, or evaluating and analyzing programs, a social work degree lays such a strong foundation. The training and skills we've acquired through our experiences at Bryn Mawr College: GSSWSR can translate into any field. I also hope to stay connected to organizations such as NASW to enhance my professional and personal development. Overall, this trip was incredibly informative and rejuvenating. It was particularly invigorating talking with people who are passionate about their careers, and who remain connected to their social work identity years after graduation. Another message I heard again and again was to find a cause we believe in, and advocate for it."
Robert Segal
"The trip gave me a better sense of what it means to be a "macro" social worker. Having so many people with so much experience speak to us opened my eyes up to the range of work that we can do. It helped me to sharpen my focus on what career path is right for me and made me feel more confident that my degree will open doors for me. I came into the GSSWSR worried that there would not be many viable career options for someone in the community practice track. Now I know that there are. Learning about my chosen profession, while getting to know my classmates in an unfamiliar city was a unique and rewarding experience. The trip was a highlight of my first year."
Marketta Kelly
"The policy trip was remarkable! Hearing from the the various social workers helped me to realize that doing "what I feel passionate about" at any given time, is ok. I am inspired and excited to move forward with my professional career as a social worker, this trip has added to my network of professionals and allows me to feel confident as I embark on my journey."
Sharon L. Kimber
"I found the policy trip to Washington DC intriguing and inspiring. It broaden my knowledge of the range of career options available to GSSWSR students who pursue the Community Practice, Policy, and Advocacy (CPPA) track and provided numerous opportunities for me to network with Bryn Mawr Alumni and others. It was inspiring to discover that there are several social workers who currently hold seats in Congress besides our very own alumnae Congresswoman Allyson Schwartz. The trip was a confirmation that I made the right decision to pursue a Master's in Social Service (CPPA track) and the Master's in Law and Social Policy at Bryn Mawr College, as they will afford me many career opportunities in the future. Thank you Julie Rainbow for organizing such a wonderful and informative trip."