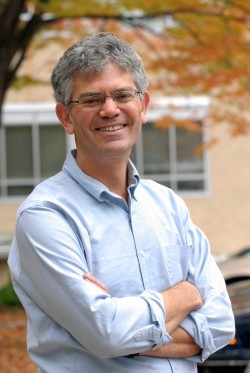 Science Education for New Civic Engagements and Responsibilities (SENCER) has appointed Bryn Mawr Professor of Mathematics Victor Donnay to be an adviser for a new initiative called "Engaging Mathematics: Building a National Community of Practice."
Engaging Mathematics will be organized by faculty colleagues who have successfully incorporated the SENCER ideals and other progressive pedagogies into college-level mathematics education. Over the next three years, the partners will work together to develop, assess and refine courses and modules, sharing them within the community of practice. As the project matures, EM partners will disseminate the results of their labors to the larger higher education community through a variety of media.
Donnay has long been involved with SENCER. Several years ago his course "Differential Equations" was designated as a SENCER model course.
SENCER models are chosen because they demonstrate success, showcase effective strategies, and evidence potential for broader implementation and adaptation. The models also advance institutional aspirations to connect learning and other goals, such as fostering interdisciplinary understanding, increasing civic engagement and personal responsibility, and helping students develop more refined ethical sensibilities leading to improved personal choices and behavior.
###
On June 23, Donnay took part in a teacher workshop on Connecting Global Literacy with STEM education that was held by the World Affairs Council of Philadelphia.
###
In May, Donnay was a guest on G-Town Radio's Science 2.0: Science for the Rest of Us, where he talked about math and environmental sustainability. Visit podomatic to listen to the interview.