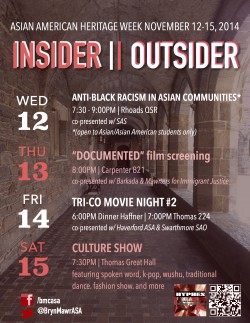 BMC Hyphen will present Asian American Heritage Week 2014 and its annual Culture Show on Saturday, Nov. 15 at 7:30 p.m. in Thomas Great Hall.
This year's Culture Show Co-heads are Amy Xu ('17) and Lisa Huang ('16) and the event theme is "Insider-Outsider." Which they describe as "Someone's inclusion or exclusion in a group, by themselves or by other group members. No one is a complete insider or outsider to any group, and we want to show you how."
To celebrate Asian American Heritage Week, the group will host a variety of discussions and film screenings centered around "Insider-Outsider," building up to the Saturday night Culture Show! See a variety of talented performers—from BMC Choom Boom to Blacktop and Friends—and talented performances—from ribbon dance to rap—all in one night. Delicious Asian foods will be served at the end of the show. Visit their Facebook page for more information and event details.