Distant Voices – Docudrama
Performance and Panel Discussion
Date: Wed., February 25th, 2015
Time: 7:00 p.m. to 9:00 p.m.
Place: Bryn Mawr College | Thomas Great Hall
FREE and OPEN TO THE PUBLIC
REGISTRATION: https://brynmawr.wufoo.com/forms/lecture-series/
Continuing Education Units: 2 ceu's  | Application for ceu credit and a $20 processing fee will be due at the event
Distant Voices is a docudrama with piano underscoring based on the diary of Hiroaki Nishimura written during his experiences as an internee in the Japanese American Concentration Camps of World War II. The presentation details Hiroaki's journey from the day he was interned on April 27, 1942 until his repatriation as an American citizen in September 1960. The piece is underscored throughout with selections from traditional Japanese folk songs as well as 19th and 20th century composers such as Gershwin, Copland, Dvorak and Debussy.
A vital element to DVTT's mission is to educate through performance and discussion with audience. This performance will conclude with interactive discussion around the historical and political background, as well as, reflection upon current issues such as racial profiling, exclusion and civil liberties.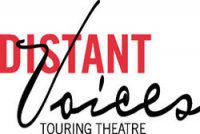 Distant Voices Touring Theatre
Founded by Danny Peak and Julie Nishimura, Distant Voices Touring Theatre (DVTT) is a professional non-profit arts organization dedicated to producing and touring original plays based on social justice events from America's past and present.
Event Contact:
Peggy Robinson
Phone: 610-520-2605
Email: probinson@brynmawr.edu
___________________________________
This lecture is sponsored by
The Bryn Mawr Graduate School of Social Work and Social Research, The Bryn Mawr College Provost's Office and
The G. Mildred and A. Foster Scott Charitable Foundation
Hosted by the Center for Child and Family Wellbeing
—————–
BRYN MAWR COLLEGE
GRADUATE SCHOOL OF SOCIAL WORK AND SOCIAL RESEARCH
www.brynmawr.edu/socialwork | 610.520.2600