Title: What do I say? Navigating difficult conversations in these particularly challenging times
Presenter: Ann Marie Garran, PhD, MSW, LCSW
Date: Tuesday, March 3, 2015 – 6:30 – 8:00 p.m.
Place: Graduate School of Social Work & Social Research | KL Conference Room – 2nd floor
FREE and OPEN to the Public. Registration required. Register here.
This presentation/talk will focus on the ways that we struggle as individuals and as a collective to navigate challenging conversations about race, gender and other aspects of identity using an intersectional framework. Barriers to difficult conversations will be identified, including the desire for psychological and emotional safety, the role of structural inequality, and the unacknowledged manifestations of power and privilege and their role in our daily lives. Strategies for allied behavior and building community will be discussed.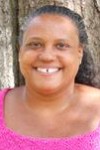 Ann Marie Garran, Ph.D., M.S.W., L.C.S.W., is an Assistant Professor at University of Connecticut School of Social Work. Her research interests include: Culturally responsive social work practice; mental health concerns of urban, at-risk adolescents; social work field supervision; developing & enhancing inclusive approaches to social work pedagogy; and anti-oppression work, particularly anti-racism. Her clinical practice has been in the areas of health and workplace
counseling services. She has lectured widely in the area of cultural competence in both practice and academic settings. Dr. Garran has authored several articles appearing in peer-reviewed journals and is the co-author (with J. Miller, 2008) of the widely-used text, Racism in the United States: Implications for the helping professions, Belmont, CA: Thomson Brooks/Cole.
Event Contact:
Beth Lewis, DSW, LCSW
Phone: 610-520-2600
Email: blewis1@brynmawr.edu
______________________________________
This lecture is sponsored by
Bryn Mawr College
Graduate School of Social Work and Social Research
www.brynmawr.edu/socialwork | 610.520.2600