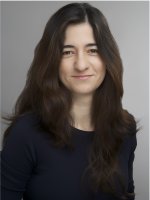 Frances Negrón-Muntaner, director of Columbia University's Center for the Study of Ethnicity and Race, is an award-winning Latina filmmaker, writer, and scholar whose work spans several fields, including cinema, literature, cultural criticism, and politics.
At 4:30 p.m. on Wednesday, Oct. 28, in Thomas Hall 224 Negrón-Muntaner will give a lecture entitled "'Mariconerias' of State: Mariela Castro, Homosexuals, and Cuban Politics" and at 6:30 p.m. screen her film War in Guam.
During her lecture, Negrón-Muntaner will examine how Cuba has gone from a state that routinely harassed homosexuals and interned them into forced labor camps to one that supports sex-change operations and promotes the rights of sexual minorities.
Through archival footage, verité, and testimonies of survivors and their descendants, War in Guam tells the story of how the native people of Guam, the Chamorros, remained loyal to the United States despite a brutal Japanese occupation only to be later stripped of much of their ancestral lands to build military bases.
Negrón-Muntaner's appearance is free and open to the public and presented by the Bryn Mawr College Gender and Sexuality Studies Program and the Film Studies Program.