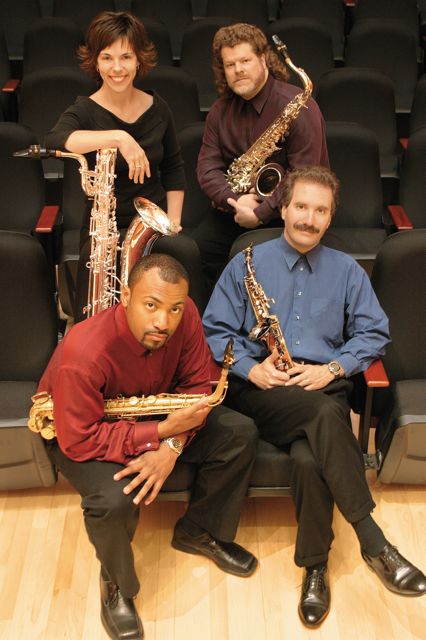 Bryn Mawr College's Performing Arts Series welcomes the New Century Saxophone Quartet to stately Thomas Great Hall on Friday, Dec. 4, at 8 p.m. as the group perform J.S. Bach's "The Art of the Fugue" followed by contemporary counterparts, including commissions by Pulitzer Prize-winning composer David Lang and Saturday Night Live band director Lenny Pickett.
The only ensemble of its kind to ever win first prize in the Concert Artists Guild Competition, the New Century Saxophone Quartet is a pioneering and versatile group. Winning new-found enthusiasm for the saxophone quartet and its diverse repertory, the ensemble's program ranges from the Baroque to innovative contemporary works to imaginative transcriptions.
New Century's 1993 New York debut at Weill Recital Hall at Carnegie Hall earned the group praise for their "virtuosic display of dexterity and keen ensemble work," in which the "players handled all the music with panache" (New York Post). When New Century became the first saxophone quartet presented at the Ambassador Auditorium in Los Angeles, the Los Angeles Times heralded the quartet's West Coast debut: "Tackling brave new territory in the conservative-leaning realm of classical music takes a unique blend of conviction, refined talent, and a bit of damn-the-torpedoes ambition. Those qualities are amply in evidence with the New Century Saxophone Quartet, not to mention a finely honed musicality deserving wider acceptance."
The New Century Quartet features Michael Stephenson, soprano saxophone; Christopher Hemingway, alto saxophone; Stephen Pollock, tenor saxophone; and Wayne Leechford, baritone saxophone.
The 2009-10 season marks the 25th anniversary of the Bryn Mawr College Performing Arts Series and in February will feature the return of historic Goodhart Theater, which recently underwent a yearlong $19 million dollar renovation.
Tickets to individual events in the Performing Arts Series are $18 for the general public, $15 for seniors, $10 for students and Dance Pass holders, $5 for children 12 and under, and free for Bryn Mawr, Haverford, and Swarthmore College students, faculty, and staff. Subscription packages offer discounts, mix-and-match ticket flexibility, and priority seating. For tickets and full season information, call the Office for the Arts at 610-526-5210 or visit www.brynmawr.edu/calendar/performing_arts.shtml.