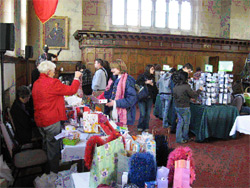 Note corrected date: the fair is scheduled for Wednesday, Dec. 2, not Thursday, Dec. 3.
Painters, jewelers, ceramists, bookbinders, knitters, bakers, and other artists from the ranks of Bryn Mawr's staff and student body will offer their wares at the Staff Association's annual Holiday Fair on Wednesday, Dec. 2, from 10 a.m. to 2 p.m. in Thomas Great Hall.
Light refreshments will be provided, and for those who choose to pack a lunch, tables will be available to allow community members to break bread together.
During the fair, the Staff Association will conduct a canned-food donation drive for Philabundance, an organization fighting hunger in Philadelphia since 1984. Especially needed for the holidays are canned sweet potatoes, green beans, corn, and cranberry sauce, as well as boxes of macaroni & cheese, mashed potatoes, and stuffing mix. Baby formula is another highly desirable donation.