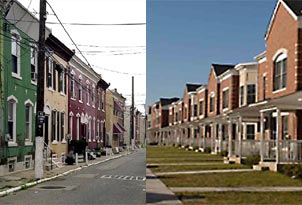 Four Bryn Mawr students will present research on housing advocacy that they conducted last summer under the supervision of Visiting Professor of Social Work and Social Research Sanford Schram on Tuesday, Dec. 1, at 7:30 p.m. in the Ely Room of Wyndham Alumnae House.
Sabra Bhat '10, Claude Heffron '10, Abigail Olson '10, and Victoria Sheppard '10 will discuss their work with the Women's Community Revitalization Project (WCRP), an advocacy group devoted to creating more affordable housing for low-income populations in Philadelphia. The WCRP's Nora Lichtash and Corey Shdaimah, Ph.D. '05, of the University of Maryland School of Social Work, will respond.
This initiative grew out of a prior project in which Schram, with the assistance of Shdaimah and Roland Stahl, Ph.D. '08, produced a report for the WCRP and the Philadelphia Affordable Housing Coalition that played a role in helping create the city's new Affordable Housing Trust Fund. The trust earmarks funding for both new rental housing and repair of existing owned homes.
According to the research done by Schram and his colleagues, Philadelphia leads major U.S. cities in the percentage of families below the poverty line that own their own homes (often without mortgages), with many of the homes in a dilapidated condition. The researchers postulated—and the WCRP advocated—that increased funding for repair of these homes could be a critical and effective antipoverty strategy in Philadelphia.
A book based on that research, entitled Change Research: A Case Study in Housing Advocacy and Social Work Research, co-authored by Schram, Shdaimah and Stahl, demonstrates how research and advocacy can work together and is forthcoming from Columbia University Press. It is slated to appear in 2010.