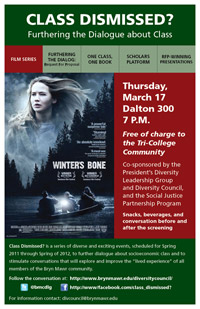 A college education is widely regarded as a mark of socioeconomic status. Yet in an environment where that education takes place, class differences are seldom a topic of  conversation, according to a survey of Bryn Mawr's campus community. Class differences, the survey found, were more likely than any other aspect of social identity to inspire feelings of exclusion — and least likely to be addressed in community discussions.
A new initiative called "Class Dismissed? Furthering the Dialogue About Class" will take on the elephant in the room with a varied, yearlong series of events designed to engage community members in discussion about how class and class differences are experienced on campus.
Key components of the effort, spearheaded by the College's Diversity Leadership Group and Diversity Council:
A film series, with facilitated discussions immediately following the movies (the series begins Thursday, March 17 with the award-winning feature Winter's Bone)
An invitation to all members of the community to submit proposals for collaborative projects designed to spark dialogue on the topic of class. The Diversity Leadership Group will award three grants of up to $2,000 each to the winning proposals, and the projects will be presented during the 2011-12 academic year.
A keynote speaker, in Fall 2011, on the topic of socioeconomic class, and discussions surrounding the keynote speech
"One Class, One Book": A summer reading assignment for the incoming Class of 2015, with an invitation to all students, faculty, and staff to read and discuss the same book
"The campus-climate assessment suggested that the topic of scoioeconomic class was marked mostly by its absence – by the inability or unwillingness of people on campus to talk about it,"  says Diversity Leadership Group Chair and Professor of Social Work and Social Research Raymond Albert.
"So I think it's important to note that we're not looking at class as a problem to be solved or trying to eradicate class differences,"Albert says."What we hope to do is open up a series of forums that allow us to talk about what class means to us, so that it isn't a barrier to participation in the Bryn Mawr community."
The initiative's sponsors hope that approaching the issue in several ways, many times throughout the coming year, will encourage a broad variety of community members to engage the discussion of class on a personal level.
"We want to provide an opportunity to talk about community members' lived experience of class on campus," says Albert, "rather than solely looking at class from the critical distance of an academic perspective. In this way, our efforts would complement students' academic experiences"
The yearlong focus on a single issue is a novel approach for the Diversity Leadership Group and Diversity Council, which hopes to enlist other campus organizations as co-sponsors of many of the "Class Dismissed?"events (the Social Justice Pilot Project, for example, is co-sponsoring the showing and discussion of Winter's Bone). If it works, Albert says, the College hopes to use it as "a sort of template."
"Our hope is to use a similar kind of diverse format or structure for engaging the community on other important issues, hoping that those activities allow multiple opportunities for people to engage in conversation."