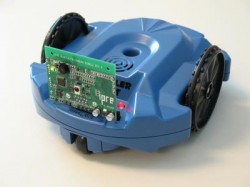 Bryn Mawr Computer Science Professor Doug Blank and some of the department's Scribbler robots took part over Spring Break in an event designed to allow educators to get some up-close-and-personal, hands-on experience with a variety of educational robot hardware and software. The event, sponsored by iRobot, had a grand finale "hoedown" of 40 robots dancing to a 43-second country music clip.
The event was covered by Dallas' CBS affiliate and Bryn Mawr's Scribblers got a little screen time.
The Computer Science Program is supported jointly by faculty at both Bryn Mawr and Haverford Colleges. The program welcomes students who wish to pursue a major in computer science. Additionally, the program also offers a minor in computer science, a concentration in computer science (at Haverford College) and a minor in computational methods (at Bryn Mawr College). The program also strives to facilitate evolving interdisciplinary majors.
The Institute for Personal Robots in Education (IPRE) applies and evaluates robots as a context for computer science education. IPRE is a joint effort between Georgia Tech and Bryn Mawr sponsored by Microsoft Research.