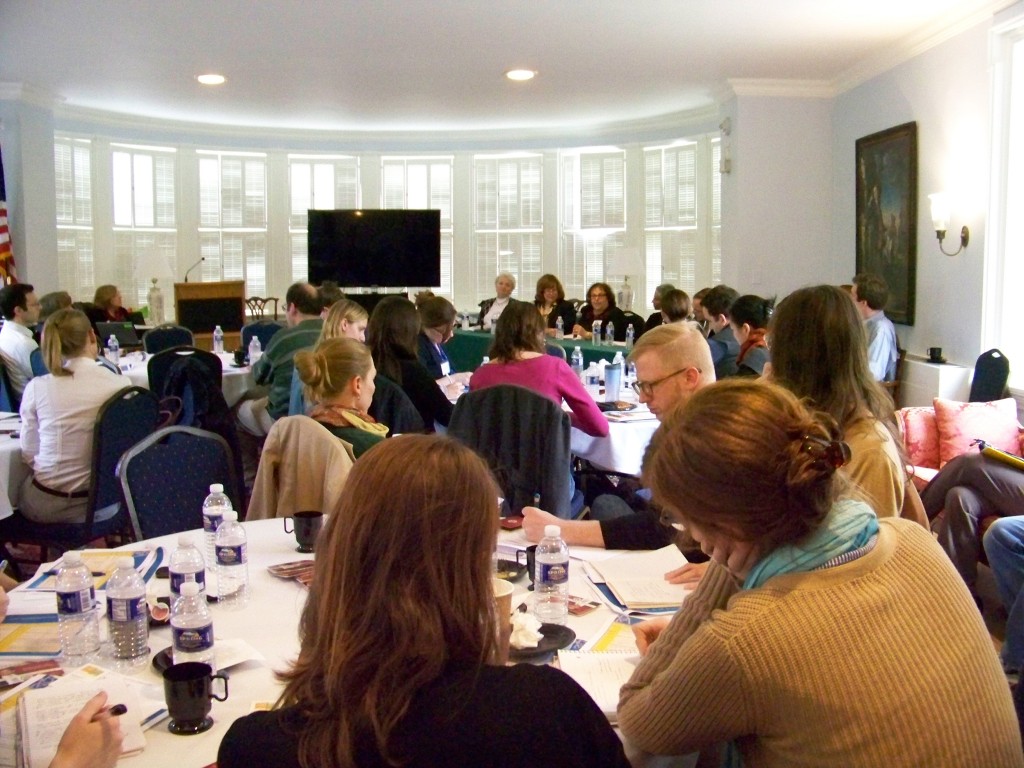 Bryn Mawr College's graduate students received advice and connected with alumnae/i of the Graduate School of Arts and Sciences at the Graduate Career Symposium held earlier this month at the Wyndham Alumnae House.
More than 50 graduate students and alumnae/i attended the symposium, which was a collaborative effort by the Graduate Student Association, GSAS Dean Mary Osirim, and the Bi-Co Career Development Office.  The Bryn Mawr Alumnae Association also helped out with the symposium by contacting alumnae/i.
The event began with a lunch, introductions and brief remarks by Dean Osirim on the current labor market for those with graduate degrees in arts and sciences. Two panels of GSAS alumnae/i then spoke.
Bryn Mawr Chief Information Officer Elliott Shore (Ph.D. '84, History) moderated the first panel, "Starting Your Career", which brought together several recent graduate alumnae/i to answer questions focused on the job search process. Speakers included Mary Frances Bannard (MA '11, Greek, Latin and Classical Studies), Shannon Dalton (Ph.D. '09, Bioinorganic Chemistry), Matthew Fury (Ph.D.'10, Mathematics), and Joan Manhardt (Ph.D. '99, Clinical Developmental Psychology).
Panelists urged job-seekers to apply early for positions and to be open to a wide range of possibilities.
"The dream job may not actually always be the right fit," said Dalton, who went through several positions before settling into a job she really enjoys as a research investigator at iCeutica Inc. Dalton went on to advise students against building up expectations of what a particular position may be like.
The second panel of the day was on "Hiring and Developing Talent" and provided advice from more established scholars and professionals. Panelists discussed the importance of networking and "informational interviews", what they look for on a C.V., as well as how a degree from Bryn Mawr College has helped them.
"From Bryn Mawr, I got a respect for academic integrity that has helped me on numerous occasions," said Conrad Turner (MA '90, Russian), who is now deputy director at the Office of Public Diplomacy and Public Affairs.  Also on the panel were Sunitha Menon-Rudolph (Ph.D. '87, Biochemistry), Wendy Roworth (Ph.D. '77, History of Art), Shelly Weiss Storbeck (MA '82, English), and Therese Dolan (Ph.D. '79, History of Art) who chaired the panel.
Lunch provided current students and alumnae/i an opportunity to interact more closely and share strategies and techniques for job placement after completing the Ph.D. In closing the event, Executive Director of the Bi-College Career Development Liza Jane Bernard urged students to be strategic in finding a career, and stressed the importance of networking early in the process.
For more about Bryn Mawr's Graduate School of Arts and Sciences, visit the school's website. For more on the Bi-Co Career Development Office, go here.