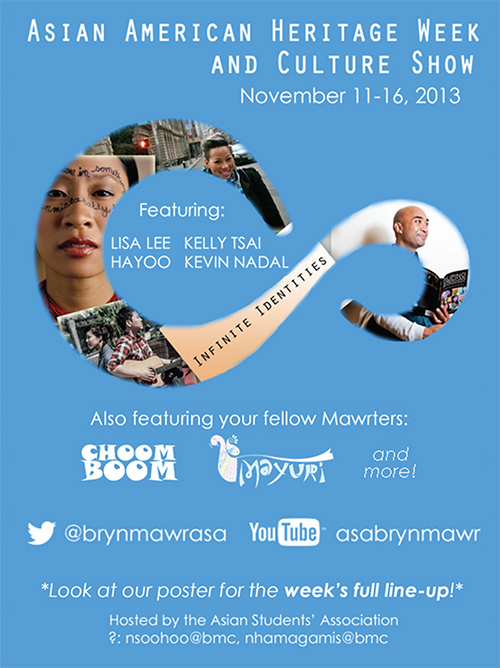 Asian American Heritage Week will be held Nov. 11-16, ending with a Culture Show  in Thomas Great Hall on Nov. 16. Other events include:
Keynote Speaker: Lisa Lee
Monday, Nov. 11, at 7 p.m. in Rhoads Dining Hall.
Diversity project manager at Facebook and cofounder of community forum ThickDumplinSkin.com.
"LGBTQ People of Color:" panel discussion with Kevin Nadal
Tuesday, Nov. 12, at 6 p.m. in Gateway Conference Room.
Filipino-American psychologist and author of That's So Gay!
Asian American Alumnae and Faculty Career Panel.
Wednesday, Nov. 13, at 3 p.m. in Gateway Conference Room.
Moderated by Director of Diversity, Social Justice, and Inclusion Stephanie Nixon.
Asian YouTuber/K-Pop Night.
Thursday, Nov. 14, at 8 p.m. in Dalton 200.
Discussion, screening, and snacks.
Asian American Mental Health Workshop
Friday, Nov. 15, at 10 a.m. in Quita Woodward Room.
Workshop features Shu-wen Wang, Haverford's psychology professor and clinical psychologist.
ASA Culture Show
Saturday, Nov. 16, at 7 p.m. in Thomas Great Hall.
Doors open at 6:30 p.m.
Heritage Week is sponsored by Asian Students Association, SGA, Special Events Funding, Alliance of Multicultural Organizations, Barkada, and the Gender and Sexuality, Child and Family Studies, and Psychology departments.