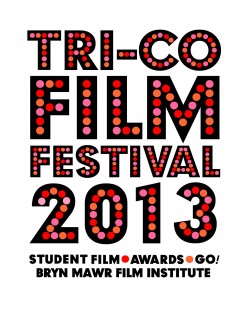 The call for submissions is open for the third annual Tri-­Co Film Festival. Selected student works will be shown at the Bryn Mawr Film Institute on Thursday, May 1, at 7 p.m. All short films directed by students currently attending Bryn Mawr, Haverford, and Swarthmore Colleges and completed after June 1, 2013, are eligible. The deadlines for submissions are:
Monday April 7, 11:59 p.m. for projects completed in the summer/fall semester of 2013.
Monday, April 21, 11:59 p.m. for projects completed in the spring semester of 2014. (Works in progress will be accepted as long as they will be completed by April 28)
The festival will be juried by Laura Deutch, education and production coordinator at PhillyCAM, Philadelphia's public access media center; and Boone Nguyen, program manager at Scribe Video Center.
To be eligible, films must be no more than 10 minutes long (shorter works are strongly encouraged), produced by current Tri­-Co students after June 1, 2013, in any style: experimental, documentary, narrative, animation, found­footage, or a fusion of genres. This year we will also consider submissions consisting of interactive digital media content, such as websites, online maps, video games, etc.
Applicants may find specific submission instructions here: Submission Guidelines.
Founded by Swarthmore professor Erica Cho in 2012, the Tri­-Co Film Festival showcases exceptional student work. The festival is supported by the Film and Media Studies Department at Swarthmore College, the Film Studies Program at Bryn Mawr College, the John B. Hurford '60 Center for the Arts and Humanities at Haverford College, and the Bryn Mawr Film Institute.
CONTACT:
tricofilmfest@gmail.com
Corey Chao, 2014 Festival Director
Hilary Brashear, 2014 Festival Associate Director